The Xiaomi Mi Smart Band 6 was announced at the end of March last year and featured several major upgrades, including a larger display and SpO2 tracking. It's March again and a detailed leak reveals what to expect from the new model. Note that this info was dug out from an early firmware for the band (found in the Zepp app) and the final product may be different.
Let's start with the display. Version 6 has a 1.56" pill-shaped display with 152 x 486 px resolution (that's 326 ppi pixel density). The new model, the Xiaomi Smart Band 7 will have a 192 x 490 px resolution. Note that the vertical resolution is essentially the same, but the horizontal one is larger – this suggests a wider display. We expect that the pixel density will remain the same since it's that magic "Retina resolution" number.
Also, some watch faces have an Always On version that shows the time. AOD is one of the advantages of Xiaomi smartwatches over the bands, in no small part because it puts a strain on the battery. A wider band may fit a bigger battery, but not enough to offset the drain of AOD. Still, it's great to have the option.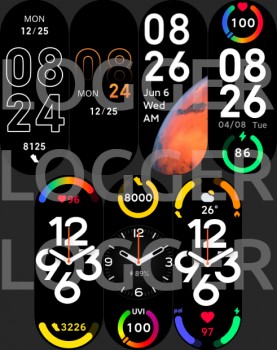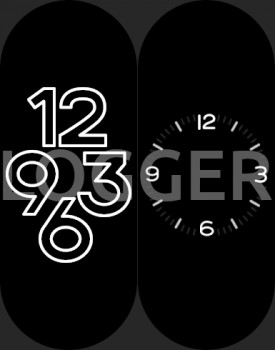 Xiaomi Smart Band 7 watch faces • Always On watch faces
GPS is another major feature that's missing from the Xiaomi bands (some competing bands do have it), current bands rely on your smartphone to get positioning data. The Smart Band 7 may support GPS, GLONASS, Galileo and BeiDou. "May support" since the Mi Band 5 Pro (which was supposed to have GPS) was canceled. If version 7 does have positioning, it will offer several modes: All Satellites (more accurate, more power hungry) or GPS + one other constellation (less accurate, but needs less power).
Going back to the battery, there will be a couple of power saving modes, which will deactivate some features. One of the modes will keep only the step counter and basic sleep tracking running in the background. The Mi Smart Band 6 offered 15 days of battery life, the 7 will probably target 15 days as well.
Another feature mentioned in the leak is Smart Alarm, which waits for you to enter light sleep before waking you up. This feature was available on the original band but was removed and hasn't been seen in subsequent versions.
There's no mention of NFC, Xiaomi typically offers that in a separate version of its bands (available in China and usually released globally as well).