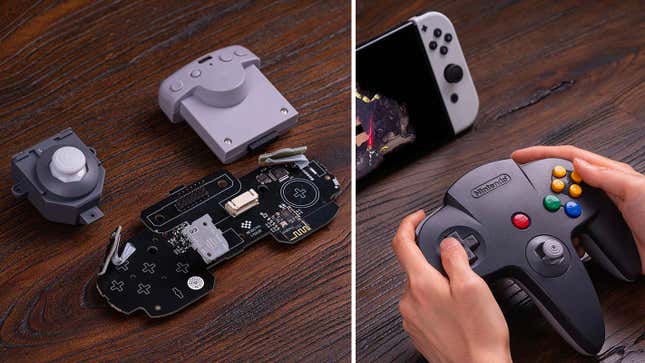 The Nintendo 64 was the first to introduce console gamers to analog control sticks, but over 25 years after its debut, many of those original controllers aren't doing so well (we blame Mario Party). With 8BitDo's new N64 Mod Kit, you can now give them a welcome and very easy upgrade, including a hall effect joystick and Bluetooth connectivity.
First introduced back in 2018, the 8BitDo DIY line launched with a kit that made it incredibly easy for anyone to upgrade an original Super Nintendo controller with wireless connectivity. Unlike many console upgrades, which require a steady hand and a soldering iron, 8BitDo's kit simply required basic skills with a screwdriver. Players simply needed to disassemble their gamepads, swap in a new mainboard, and then close them back up again.
The line was later expanded with kits to wirelessly upgrade wired Sega Genesis and PlayStation controllers, but today 8BitDo introduced a new kit that does more than just make original N64 controllers wirelessly compatible with the Nintendo Switch and Android devices through Bluetooth. The kit optionally includes an upgraded hall effect analog joystick replacement, which should extend the life of the controller almost indefinitely, as hall effect joysticks should never develop drift or other issues through wear and tear.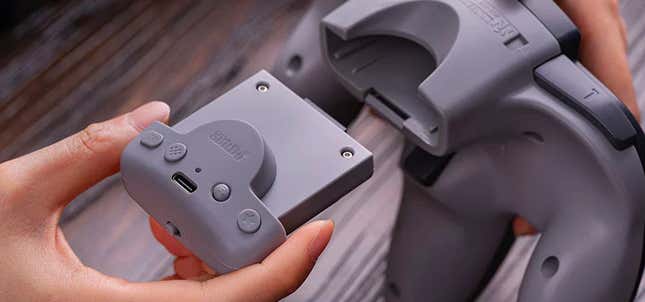 Wireless connectivity also means the N64 controller won't be connected to power. Prior kits put a rechargeable battery on the internal replacement mainboard, which required other upgraded controllers to rely on a proprietary charging cable. But this time around, 8BitDo has integrated one into a replacement N64 Rumble Pack. The pack still vibrates, but also introduces control buttons and a standard USB-C charging port. Unlike the new hall effect joystick, the upgraded Rumble Pack is essential for the N64 controller to go wireless.
A full upgrade, including the wireless mod kit, the Rumble Pack, and the hall effect replacement joystick is currently available for $40. If you want to skip the joystick, the wireless upgrade on its own is $30, and if all you want is the upgraded joystick, that by itself is just $20. That's about $10 cheaper than buying Nintendo's upgraded N64 controller, but only if you already have your original N64 controllers on hand. And if you're wary about making them incompatible with an original N64 console, the upgrade is completely and just as easily reversible, assuming you hold onto all the parts you removed.