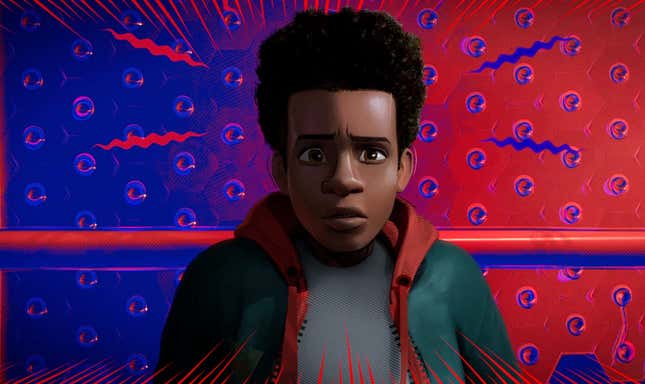 Miles Morales, voiced by Shameik Moore, is a teenager from Brooklyn, New York who leaves his normal school for a more prestigious one called Brooklyn Visions Academy. His father, Jefferson, is a police officer; his mom, Rio, is a nurse; and he's passionate about art and music.
One day, while making graffiti art in the subway with his uncle Aaron, Miles is bitten by a spider that gives him superpowers. When he attempts to find out more about where the spider came from, he witnesses a fight between Spider-Man and Kingpin. Spider-Man is trying to stop Kingpin from using a massive machine that can destroy space and time and, in the process, Spider-Man is killed by Kingpin. Before he dies though, Spider-Man senses that Miles is like him and makes Miles promise he'll stop Kingpin and destroy the machine, which they refer to as a collider.
At the start, Miles is just starting to learn about his powers; along the way, he meets several other Spider-people who were brought to Peter's world through Kingpin's collider. By the end of the movie, he's been the official Spider-Man of his universe for exactly two days.