Netflix's next crack at the world of Roald Dahl is The Twits. Get a new look at Percy Jackson and the Olympians. Plus, Gen V invites you to its superhero campus, and get a behind-the-scenes glimpse at the return of Loki. To me, my spoilers!
Who Should Be The New Wolverine? io9 Picks

Deadpool 3
According to Deadpool 3's cast list on IMDB, stuntman Joel Adrien has been added to the crew as "Channing Tatum's Stunt Double"— a development prompting Coming Soon to speculate the actor's unrealized take on Gambit will finally see the light of day in a cameo.
---
The Twits
An animated film adaptation of Roald Dahl's The Twits is now in development at Netflix.
---
MaXXXine
According to the latest issue of Scream magazine, the third entry in Ti West's X/Pearl trilogy will be "a whodunit slasher" set in 1985, "six years after the farmstead massacre of X. Maxine Minx (Mia Goth) is now LA-based and on a driven quest to become a star in the acting world. Things take a sinister turn when bodies once again begin to fall around the starlet."
---
Aquaman and the Lost Kingdom
During a recent interview with Collider, James Wan revealed ideas from his unproduced Aquaman spinoff, The Trench, were incorporated into Aquaman and the Lost Kingdom. 
We had developed the Trench movie, and ultimately, like most things, you develop — if they work out, great, if they don't, then that's fine as well. We didn't want that project to potentially step on the Aquaman films, but we came up with a lot of really interesting ideas and really cool stuff that I felt we could use it in this one. And so with the Trench movie, it was going to be a secret Black Manta, right? Initially, we announced it as a Trench movie, but ultimately, we wanted to surprise the fans because that was going to be a stand-alone Black Manta movie. And so when that didn't happen, some of those ideas kind of found its way into this there.
---
Shaky Shivers
A scratch from a disembodied skull turns Brooke Markham into a werewolf in a clip from Shaky Shivers, a new horror-comedy directed by Sung Kang, the actor who plays Han in the Fast and Furious movies.
Shaky Shivers | Exclusive Clip – We All Scream For Ice Cream
---
The Jester
Elsewhere, the titular "malevolent entity" dances in a graveyard in a new clip from The Jester, coming to VOD this October 3.
The Jester Clip – Dancing
---
Casper
We also have a proof-of-concept trailer for a "contemporary, A24-esque horror overhaul" of Casper, the Friendly Ghost from Canadian filmmaker, Jared Pelletier.
Casper | Trailer HD | 2023
---
Percy Jackson and the Olympians
Entertainment Weekly has released a few new images from Percy Jackson and the Olympians.
---
Krapopolis
Spoiler TV also has photos from "Prometheus," the fourth episode of Krapopolis. Head over there to see the rest.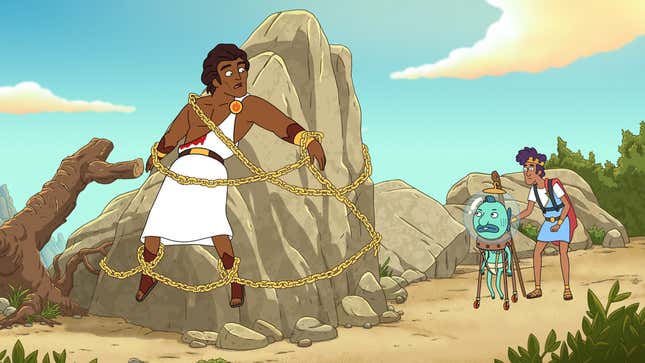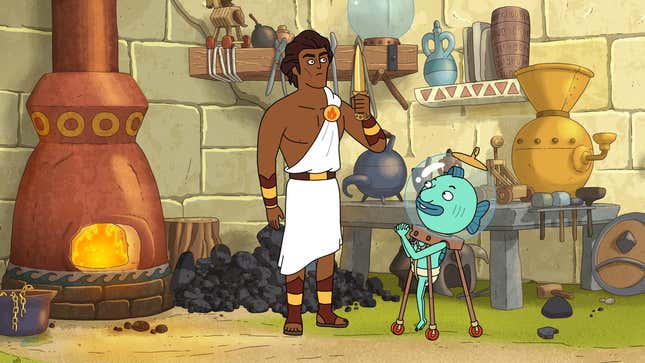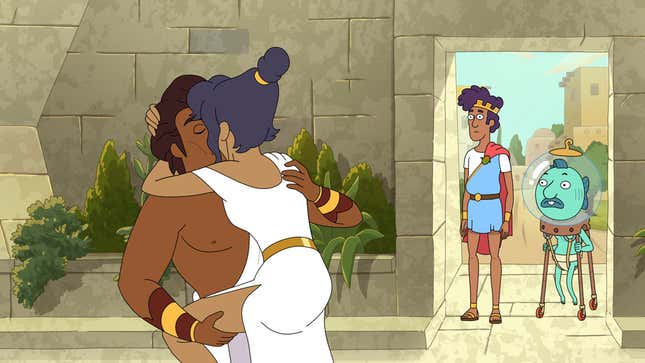 ---
Gen V
Gen V's Godolkin Uiversity has released another orientation video hosted by Clancy Brown and Shelley Conn.
---
Loki
Finally, the cast of Loki discuss season two in a new featurette.
Marvel Studios' Loki Season 2 | Amazing Loki
---
Want more io9 news? Check out when to expect the latest Marvel, Star Wars, and Star Trek releases, what's next for the DC Universe on film and TV, and everything you need to know about the future of Doctor Who.