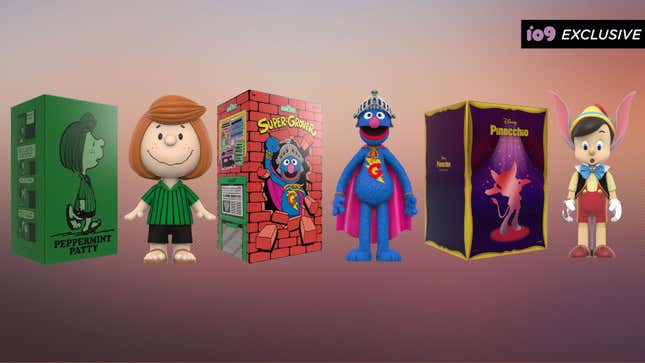 Get ready for some SuperSize collectibles from Super7, which are available as of today.
io9 has an exclusive look at the next lineup for SuperSize that continues to expand just in time for the holidays. Super7 co-founder/CEO Brian Flynn shared, "Our SuperSize line is more than just a toy, it is a work of art. Our goal is to offer our fans a figure that looks like it walked straight out of a cartoon and into your collection."
These action figures are huge—at 17 inches, these vinyl statues are quite a package. We have your first peek at Sesame Street's Super Grover, Disney's Pinocchio in the Pleasure Island Donkey variant, and Peanuts Peppermint Patty. Flynn continued, "The most important aspect of our SuperSize figures is that they are evocative of our larger Super7 thought process which focuses on quality, craftsmanship, and most importantly, joy. With figures ranging from Peanuts to Disney to Sesame Street, we want SuperSize to be emotionally relevant to our community in a way that is reflective of the artistry and tactility that we pour into all of our products."
Take a look at the collection in this gallery!