Maybe I'm falling for all the fear-mongering lately—I did grow up watching Lifetime—but I'm keen on the satellite safety features bundled in the iPhone 14 and 15. The built-in connectivity offers as much peace of mind as the pepper spray in my bag. I'm miffed Android makers have yet to come on board with similar offerings.
Is USB-C Finally Coming To iPhone?
Just in time for a season of intense holiday travel, Roadside Assistance via satellite is available on iOS 17 for iPhone 14/15 users in the U.S. and Puerto Rico. Those are the only models with satellite connectivity embedded in them. Unlike Emergency SOS via satellite, Roadside Assistance isn't meant for natural disasters or life-threatening situations. It's more for dealing with life's inconveniences where there's no wifi or cellular connectivity, like when your car gets a flat in a rural area on the way to grandma's. But it still feels essential to have on hand.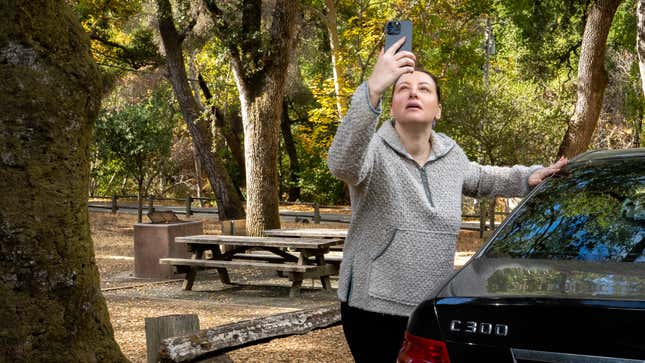 Apple invited me onto a caravan into the Silicon Valley hills to experience what it's like calling for car help with the iPhone 15 Pro via satellite. Suffice it to say, it was the easiest time I've ever had calling AAA.
Here's how Roadside Assistance via satellite works: if you find yourself having car trouble—in my scenario, my car battery "needed a jump"—and you see the satellite symbol pop up in the right-hand corner, it means there's no service available. You'll have to text for help. In the Messages app, start typing a message to "roadside assistance." As you spell out the name, you'll see the option to request Roadside Assistance Via Satellite.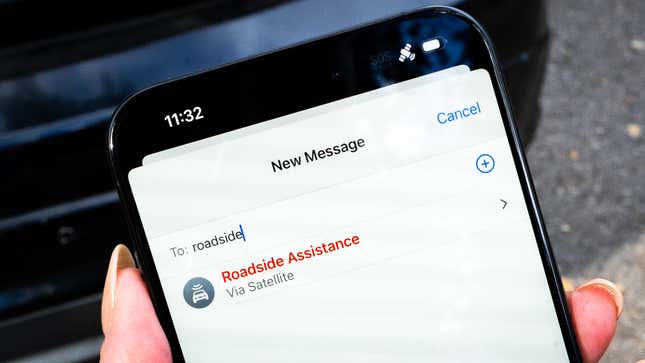 From there, each screen is relatively self-explanatory. The service first has you confirm whether you're requesting Roadside Assistance or Emergency SOS via Satellite. When you select the former, you'll be asked to choose from a list of issues that most describe your problem, like needing gas or a recharge for your electric vehicle. Then, you'll be asked for the make and model of your car before the iPhone starts to guide you through connecting with a satellite. For best results, you'll need to hold the iPhone upright and toward tree-free visibility. You do not have to hold it up to the sky like the Verizon guy circa the early aughts. I was doing that during the demonstration, and my arms got tired.
There are caveats to Roadside Assistance via Satellite and who can request help. It's available only where AAA offers service in the U.S. and only works for four-wheeled cars and trucks. That means no two-wheeled motorcycles or Vespas. You also need to be near a road to receive help. I didn't quite understand this prerequisite in the fine print, so I emailed an AAA spokesperson. They responded that if you're nowhere on or near a roadway, the representative will suggest going back a step in the app and calling for emergency help via satellite instead of roadside assistance. "The goal is to get [people] help and provide comfort in a high-stress situation."
Once the satellite connection is stable enough to transfer data, the letters "AAA" pop up in bright red above the messages thread to indicate you're connected to someone from AAA. They'll already have your name, location, and car type, though they might ask additional questions. The rep will also ask for your membership number, as members get a certain number of roadside assistance calls included with their subscriptions. But even if you don't subscribe, AAA will offer to send help, and you'll have a chance to accept the charges. Prices for roadside assistance fluctuate between regions, but Apple and AAA are reasonably transparent about it. For example, the service I called for costs around $160 for a non-member in my area.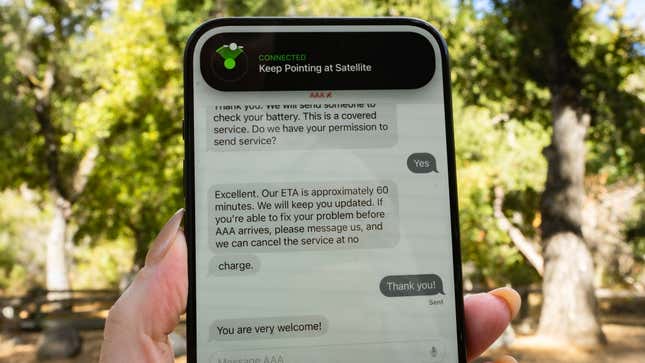 After connecting to an AAA rep, I had a truck on the way. The rep initially estimated an hour before help would arrive at my "stranded" car. But after a few minutes, as if recalling this was a sanctioned demonstration, the timing changed to under ten minutes.
You can chat via satellite with the AAA rep while waiting, though you'll have to position the iPhone toward the open sky whenever you want to send a new message. The AAA rep also checks in with you every 15 minutes. Just like Emergency SOS via satellite, you must be outside in an open area to keep the connection going, and long messages will take longer to send. The iPhone took nearly a minute to send over three lines of car details to the AAA rep.
The AAA chat rep checked in one last time, just as the real AAA chariot arrived where I was parked in the no-service area. He rolled down his window and waved, then pulled up in front of my car.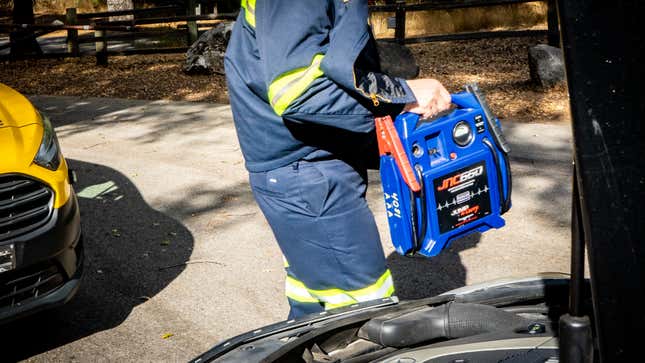 While I didn't actually have a dead battery, nor did the technician work on my car, it's good to know calling for roadside assistance can be seamless, even in an area where I had no cell service. I've called AAA a handful of times in my two-decade driving career, either seeking help for me or someone else stranded on a California freeway. It was never this easy to get on the line with someone. Granted, this was a controlled demonstration. But iPhone users who call for roadside assistance this way will be screened by AAA as "high priority" because of the lack of cellular connection.
All this brings to mind how I felt when I first tried out Emergency SOS via satellite. Being an iPhone user has special privileges, including making you feel like you're leading a safer life if you wield one. It's insurance. For some, that promise of a lifeline is worth the cost of switching ecosystems and upgrading to a new phone, and that's precisely what Apple is betting on by investing in features like this.
Before traveling for the holiday, you can demonstrate the Emergency SOS via satellite features to familiarize yourself with the prompts beforehand. You will need the latest version of iOS 17. Then, under Settings > Emergency SOS, scroll down to the bottom of the page to find the option.
Roadside Assistance via satellite is available on the new iPhone 15 or 15 Pro and the iPhone 14 series. It's free for both iPhones until 2025 when we expect Apple will eventually announce how much it will charge for the satellite offerings.