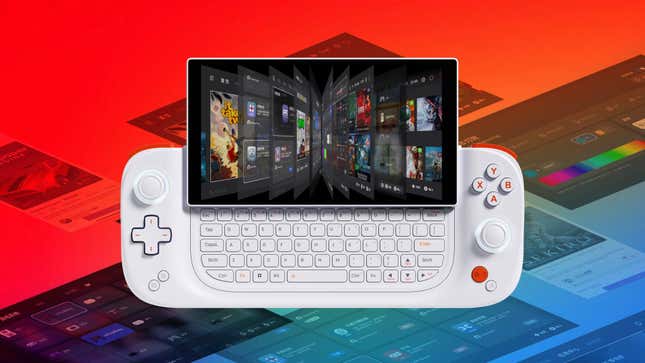 It seems that these days, every other company wants to try its hand at releasing handheld gaming PCs. The Ayaneo Slide is joining the surprisingly crowded battlefield to compete with the likes of the recently released Steam Deck OLED and Lenovo Legion Go for portable gaming dominance.
The HP Spectre Fold: One Device, Three Modes, All Meh
Founded in 2022, Ayaneo likes to call itself "a revolutionary rebrand for portable gaming consoles." It recently hit (in fact, went way past) its $105,000 Indiegogo Kickstarter goal for the Slide.
Ayaneo Slide is essentially an RGB-lit handheld gaming PC with a hidden keyboard. It is powered by one of AMD's Phoenix mobile processors, the AMD Ryzen 7 7840U, and sports a 28W "3+2″ three copper tube cooling system to keep the processor running smoothly. It boasts itself on its ergonomic design and a multi-angle free hovering display. We see this with the 6-inch IPS display being able to slide out and be tilted toward the user between zero and 30°.
The much-touted 'one-push automatic spring structure' reveals a full QWERTY keyboard when the display is slid all the way up. While it's interesting that Ayaneo decided to include a keyboard visually, it's one of the features that distinguishes it from the Steam Deck and the Legion Go.
While having a keyboard is a novel concept, plenty of commenters have pointed out that it is strange that the entire promo video doesn't show a single instance of the keyboard in use. It does make you wonder what sort of handheld gaming experiences benefit from a physical keyboard aside from, let's say, chatting on Discord or making it easier to navigate Windows.
The Ayaneo Slide is available at an early bird price of $699 for its base configuration, offering 16GB memory and 512GB storage. The configurations go up to a whopping 64GB memory and 4TB storage. The device will start shipping in mid-December of this year.