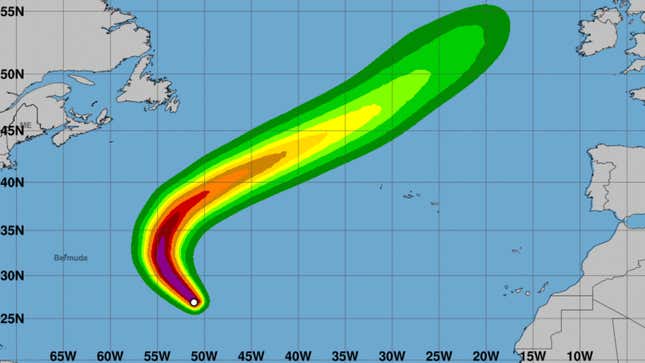 Tropical storm Nigel formed in the Atlantic Ocean late last week and has quickly intensified into a category 1 hurricane. The storm system is not currently a threat to any community as it is far out in the middle of the ocean.
Hurricanes and Climate | Extreme Earth
The storm currently has sustained maximum winds of about 80 miles per hour and is expected to become a major category 3 hurricane by Tuesday, according to national forecasters. The hurricane is expected to move towards the U.S. and the Caribbean for the next few days but it is expected to turn northward by the end of Tuesday, an Atlantic Tropical Weather Discussion explained. Nigel is expected to gradually weaken by the middle of this week.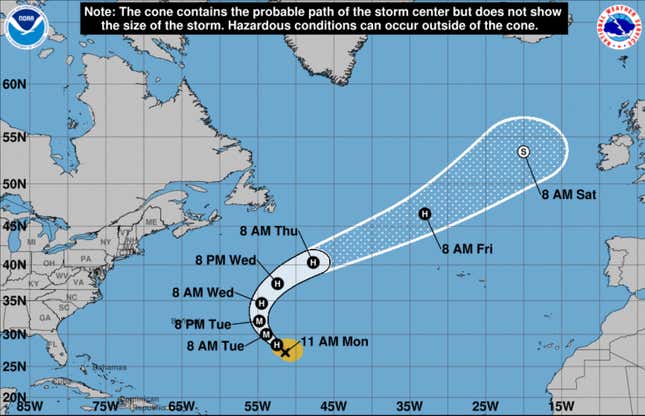 Because the storm is currently in the middle of the ocean, more than 800 miles away from Bermuda, there are no coastal public advisories. Forecasting maps from the National Weather Service show that the storm is not likely to hit the United States and will instead curve around and eventually move closer to Europe.
Nigel comes right after Hurricane Lee, which also had an uncertain path for much of last week. Forecasters eventually predicted that the storm would make it up to Canada's coast. The storm made landfall over Nova Scotia this past weekend as a post-tropical cyclone. The storm felled trees, damaged power lines, and cut off power for thousands across Maine and Canada's coast.
Want more climate and environment stories? Check out Earther's guides to decarbonizing your home, divesting from fossil fuels, packing a disaster go bag, and overcoming climate dread. And don't miss our coverage of the latest IPCC climate report, the future of carbon dioxide removal, and the invasive plants you should rip to shreds.