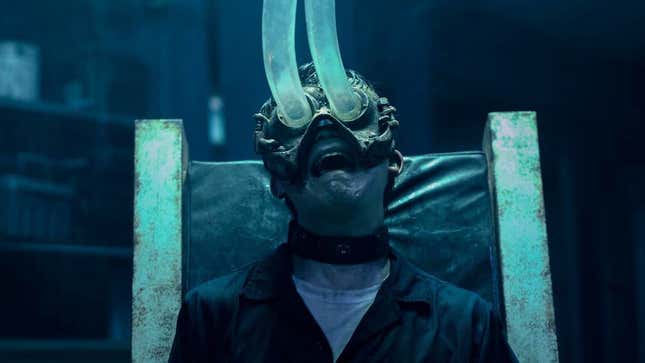 Watching the Saw movies isn't for everyone—across the now 10-movie franchise, audiences have seen people mutilate themselves in order to stay alive or die trying in some pretty grisly fashion. For those who loves these movies or to see people get messed up, that's part of the appeal. But when you're the one involved in the production of one of these movies, it can lead to some interesting stories.
Grace Byers on Horror and Comedy in The Blackening
Talking to NME, Saw X director Kevin Greutert revealed his First Assistant editor Steve Forn got the cops called on him. Forn was working on sound design for a particularly gory scene featuring the eye vacuum trap seen above, and had the volume up loud enough that his neighbors called the police to see what was up. "We have the doorbell [camera] video of the police walking up," Greutert explained, "[Forn answering the door] and the police saying, 'The neighbours [have been] calling and saying someone's being tortured to death in here.' And he was like, 'Actually, I'm just working on a movie…You can come in and see it if you want?'"
Fortunately, the cops took it all in stride and just laughed, according to Greutert, who said that the screams had to have been "pretty realistic" to warrant a call from the police. "They said, 'We want to but, you know, you're all right.' […] It's a pretty funny story…Plus Steve is such a mild mannered guy. I can only imagine the look on his face when he realized what was happening!" Sound design is an important part of all movies (especially horror), so if nothing else, props to Greutert and company for doing their job too well.
Saw X is now playing in theaters.
[via Variety]
---
Want more io9 news? Check out when to expect the latest Marvel, Star Wars, and Star Trek releases, what's next for the DC Universe on film and TV, and everything you need to know about the future of Doctor Who.